The view from our 'Simple Survival' model Earthship.
The comfort in this man-made cave is surprising. As I rub my eyes at the morning, I cannot believe it is Friday already. The sun rise over the sage-strewn mesa confirms that it is real.
I roll over to absorb this reality and the work for the day ahead. To get a grasp on it, I ponder the previous week.
The past week has been intense.
Muscles have strained against the unchanging desert heat.
Sand has embedded into my eyes. My nose bleeds almost daily, caked in dirt until I wash.
Carrying the solar-heated showers (similar to the ones we use in Haiti) is a herculean challenge at the end of such long days.
But, after a shower that is warmer than what we got in our apartment in Lakeland, and after we cook freshly prepared vegetables, chat about what we learned and what God is showing us, it becomes some of the most-deserved rest we have earned in a while.
We collapse into bed mostly unable to speak because we are so tired.
The Weeks So Far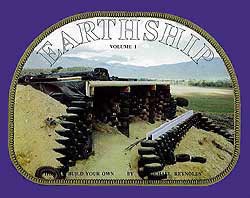 Earthship Vol.'s 1, 2 & 3 are part of our weekly reading.
Three days a week we learn in class. This means we have a half-day of work on the project.
The grass is always greener in this situation.
Being in class
means more philosophies, more technicalities, more data, more education. It also means less blazing heat.
Being at the project site
means more application, learning how to troubleshoot, becoming hardier, working with people; learning how to really build a building, out of the ecosystem no less. It also means pure exhaustion.
Pros and Cons exist for both. The Earthship team, though a band of roughnecks, are highly skilled, knowledgeable, and have put together a good program for the Academy.
This amazing gorge is just a mile or so from our house.
And, gazing out under the brim of my hat, I know there is more here, too. Just as the plateau we live on has a hidden 650 foot gorge, there are hidden spiritual depths to our time here.
This is the time in the desert for us. The desert fathers found profound experiences with the Lord.
'The Wisdom of the Desert' by Thomas Merton
has enriched my life. It has brought revelation to our time here.
To wake daily, spend time with the Lord, prepare my heart, and then work in the heat and sun; it is cleansing.
There is intense quiet throughout the day, something I need desperately.
There is a barren land here, similar to what we find in many parts of the world that need the Mission. There are few things to detract from the responsibilities of living a simple life to help improve others lives, a model for the Mission itself. There are traps, snakes, prickly plants, pain and dehydration for those who merely wander off the path into the mesa.
It creates a narrow selection of options for the day. This is at first disconcerting. Quickly following that, it is alleviating. It is alleviating because it brings a quick clarity to vision for our direction. It simplifies things.
And, all good things were born into this world simple.